Regular price
Sale price
$99.99 USD
Unit price
per
Sale
Sold out
Ivy, Gleeful Spellthief brings copying spells to a new level by going beyond instants and sorceries, and for the first time ever makes everything free game. That includes aura enchantments, and even Mutate creatures!

1 Ivy, Gleeful Spellthief

1 Archipelagore
1 Artisan of Forms
1 Auspicious Starrix
1 Cold-Eyed Selkie
1 Dreamtail Heron
1 Elvish Mystic
1 Errant, Street Artist
1 Eutropia the Twice-Favored
1 Fyndhorn Elves
1 Gemrazer
1 Glowstone Recluse
1 Gnarlback Rhino
1 Llanowar Elves
1 Maraleaf Pixie
1 Meletis Astronomer
1 Migratory Greathorn
1 Parcelbeast
1 Pouncing Shoreshark
1 Sawtusk Demolisher
1 Sea-Dasher Octopus
1 Souvenir Snatcher
1 Spellwild Ouphe
1 Stormchaser Drake
1 Triton Cavalry
1 Triton Fortune Hunter
1 Trumpeting Gnarr

1 Beast Within
1 Cerulean Wisps
1 Charge Through
1 Double Major
1 Leap
1 Negate
1 Shadow Rift
1 Slip Out the Back
1 Snakeskin Veil
1 Tamiyo's Safekeeping
1 Viridescent Wisps

1 Croaking Counterpart
1 Cultivate
1 Irenicus's Vile Duplication
1 Rampant Growth
1 Repudiate // Replicate
1 Scale the Heights
1 Slip Through Space

1 Arcane Signet
1 Sol Ring
1 Twinning Staff

1 Aqueous Form
1 Auramancer's Guise
1 Boar Umbra
1 Cartouche of Knowledge
1 Colossification
1 Combat Research
1 Corrupted Conscience
1 Curiosity
1 Eel Umbra
1 Karametra's Favor
1 Keen Sense
1 Rancor
1 Rune of Might
1 Season of Growth
1 Shielding Plax
1 Sixth Sense
1 Snake Umbra
1 Spider Umbra

1 Command Tower
1 Evolving Wilds
1 Exotic Orchard
1 Myriad Landscape
1 Rogue's Passage
1 Simic Growth Chamber
1 Temple of Mystery
1 Yavimaya Coast

13 Island
13 Forest
Share
View full details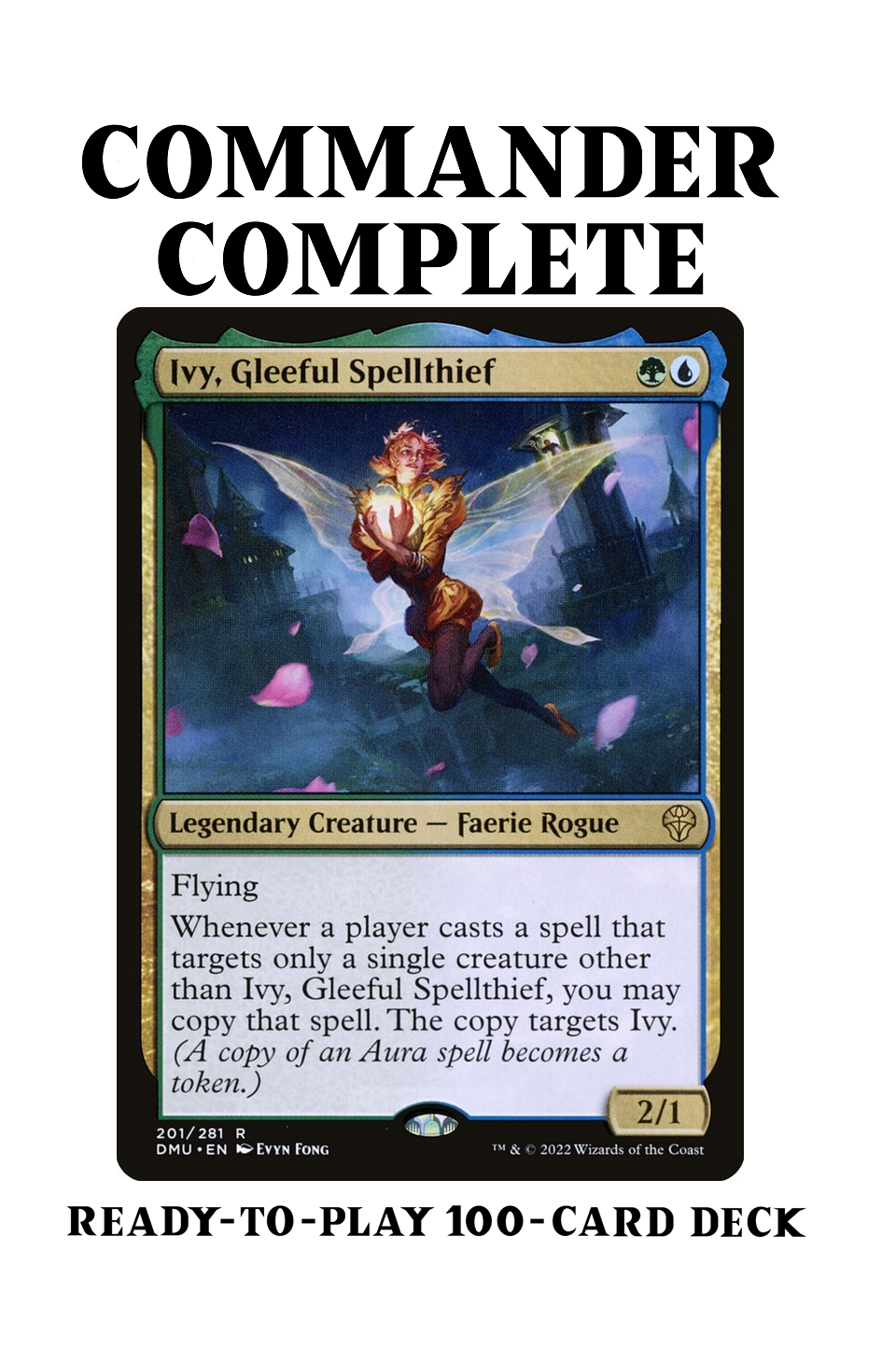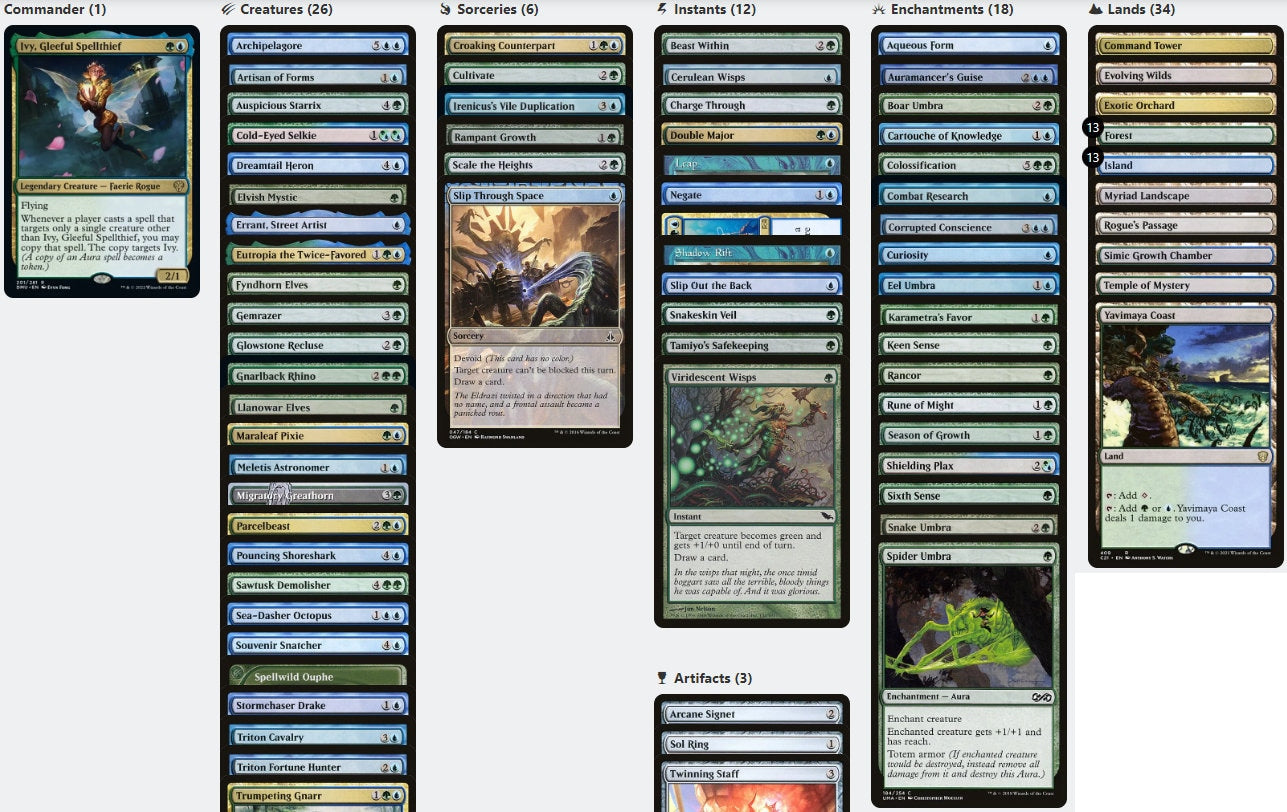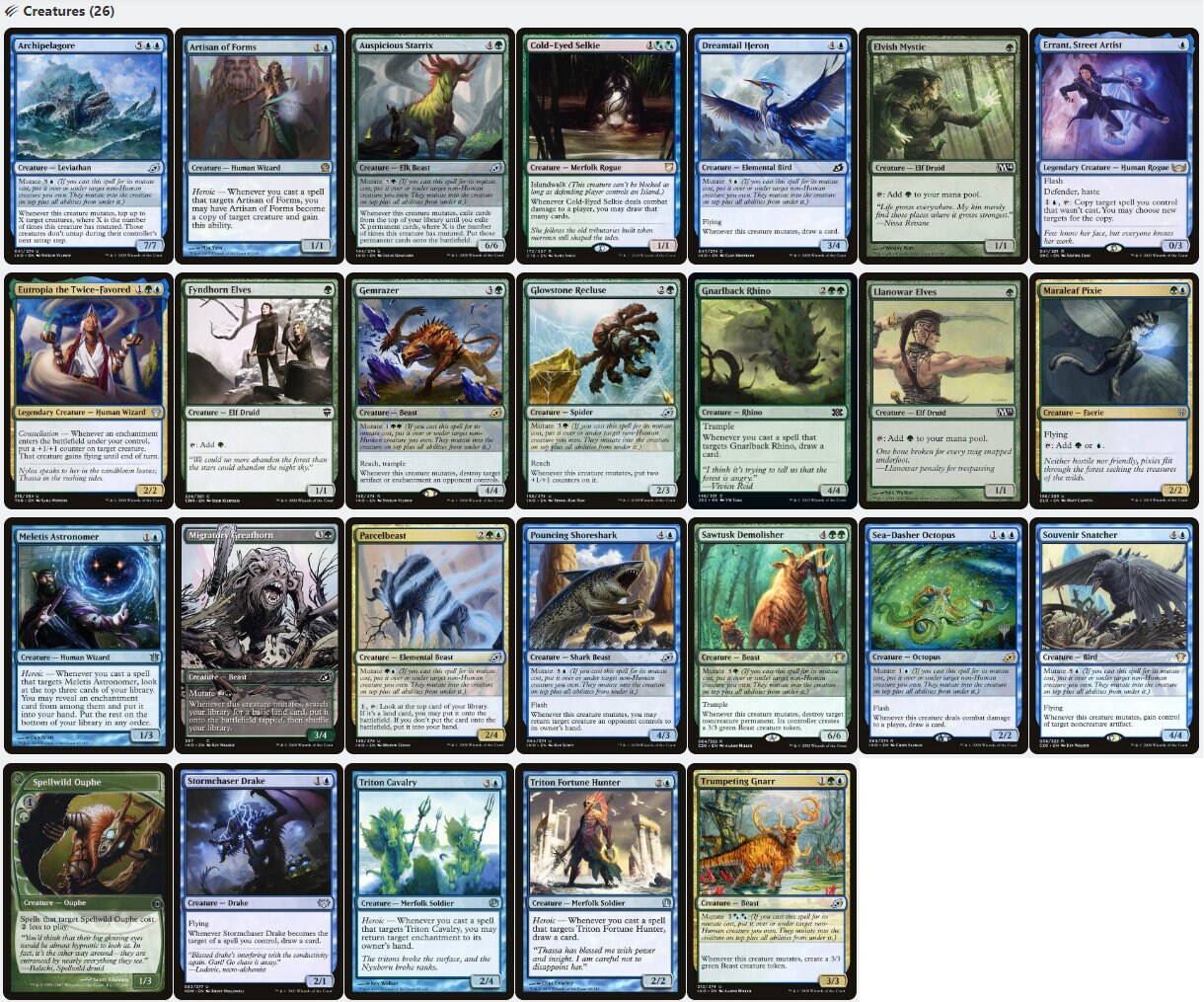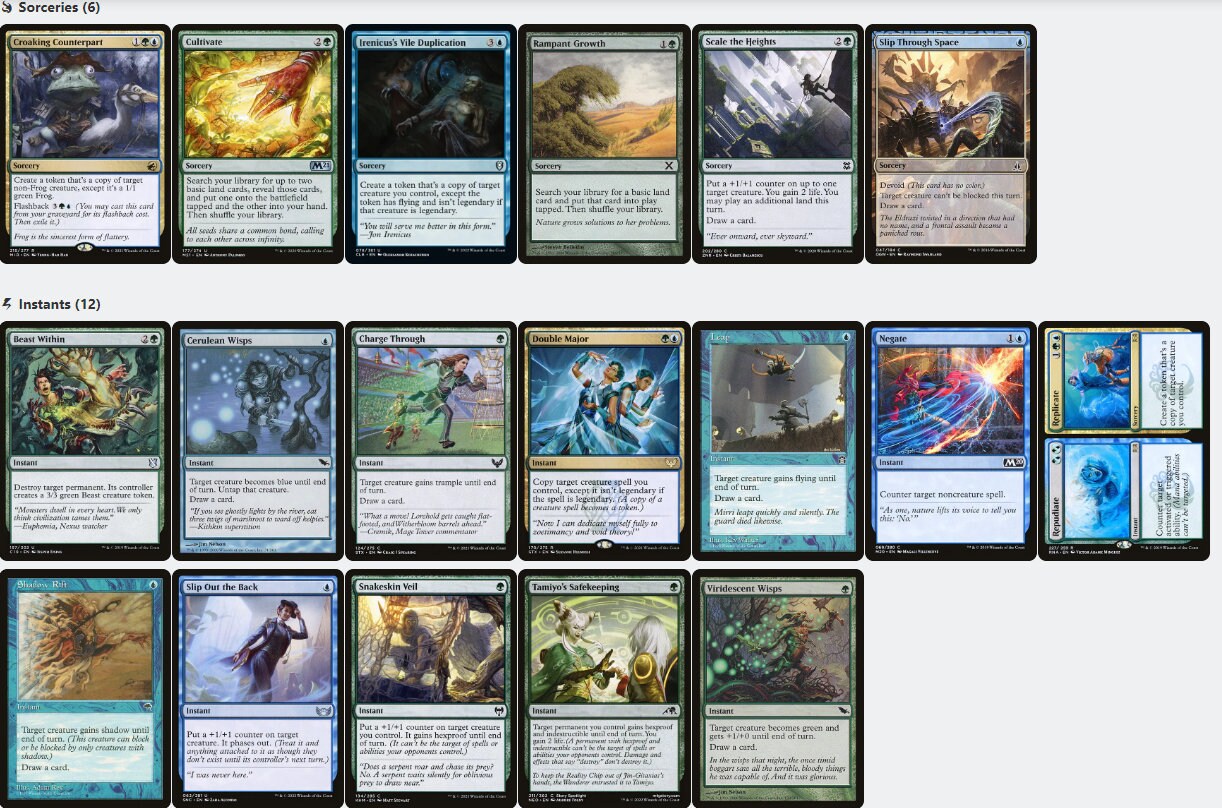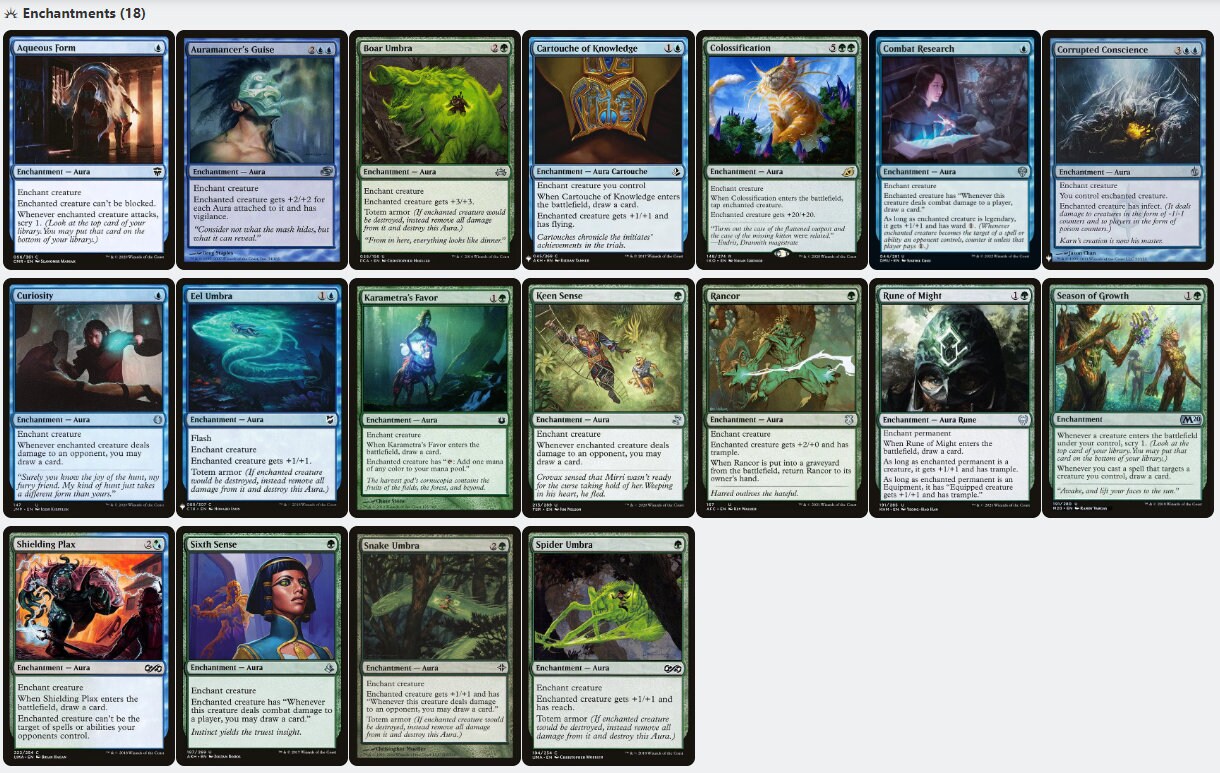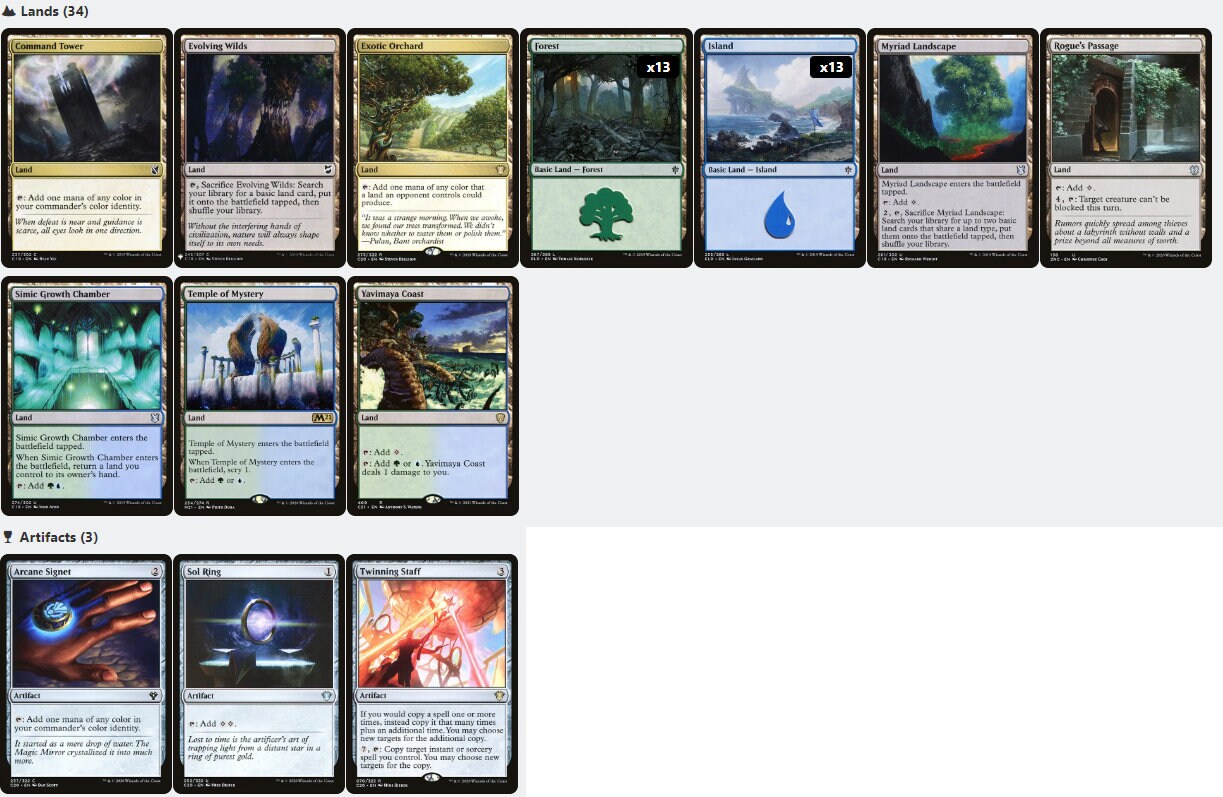 Collapsible content
DETAILS

A complete 100-card Commander/EDH deck, made of authentic English-language Magic: the Gathering cards in near-mint to slightly played condition.

The set printing of any individual card you receive will be random and may be different from those pictured. Cards are nonfoil unless otherwise specified.
PROTECT YOUR DECK

Your deck will arrive unsleeved in a protective box for secure shipping.

Add sleeves and a deckbox to get your deck game-ready.
FREE SHIPPING

Decks ship FREE to the U.S.A.

All decks are shipped ASAP, and if not in-stock will be built-to-order.

Please allow up to one week handling time, you will be updated with a tracking number when your package ships.